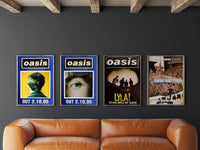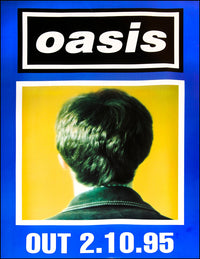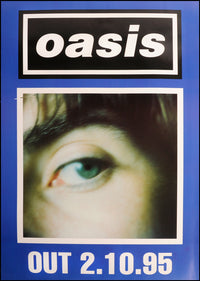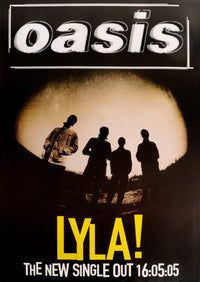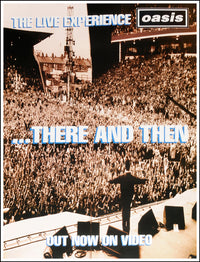 Original Poster Shop
Oasis posters-Collectors Set 2. Rare Originals
Oasis poster set for (What's the story) Morning Glory? featuring Noel & Liam Gallagher (Blue), Lyla and There and Then
This is a 4 poster original set comprising:  
Original litho-printed Oasis posters for (What's the story) Morning Glory? album featuring Liam Gallagher and Noel Gallagher.  
At the 1996 Brit Awards, the album won Best British Album and at the 2010 Brit Awards, (What's the Story) Morning Glory? was named the greatest British album since 1980 and has over 16 million copies worldwide.
Original litho-printed Oasis poster for Lyla (size 28" x 19")
Written by Noel Gallagher with influences from The Who and Skol, this sixth album was released in May 2005. Originally entitled 'smiler'; however the title was change as Heavy Stereo had a similar title. "Lyla" became the seventh UK number one, and it had been previously leaked to a polish Radio Station: Radio Trojka. It became the UK's number one single on 28th May 2005 and 3rd June 2005.
Original litho-printed Oasis poster for There and Then.
This is an original poster was printed as part of the main print run in 1996 for 'There and Then' and was based around footage taken from live shows performed by Oasis since 1995-1996. It was released first on VHS 1st October 1996, then on DVD in 12th November 1997. The photo features Oasis triumphant return to Maine Road, Manchester in April 1996. Forty-thousand Oasis fans in a stadium all knowing all the words to all the songs. Maine road encapsulated the feeling of brit-pop euphoria that ran rife through the 40,000 strong crowd. Were you there? The full size poster is large enough to see faces, albeit a little blurred - can you spot yourself in the crowd?
These posters were used to promote the album in record stores in 1995 and were part of the original print run, carefully stored for over two decades and only now available for general sale exclusively through The Original Poster Shop.
Size
30" x 20" inches, except Lyla ,which is 28" x 19". 
Condition
Unmarked 'Original' Condition