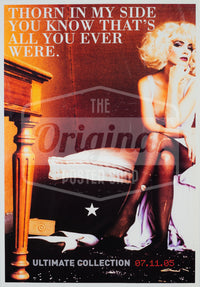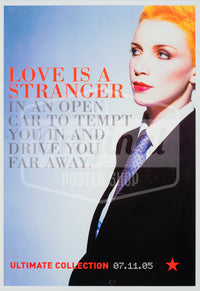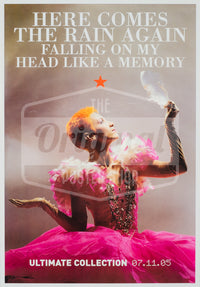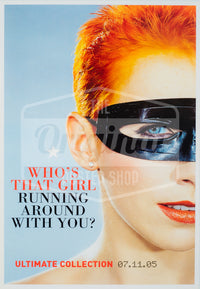 Original Poster Shop
Eurythmics - "Ultimate Collection" Collectors Set of 6 - Original
This is a collection of 6 posters including all 6 designs from the original promotional campaign at the time of the release of Eurythmics album "Ultimate Collection".
Featuring nostaligic images of Annie Lennox with the name and lyrics from some of their biggest hits in a bold font. The 6 different poster designs include; "Sweet Dreams", "There Must Be An Angel", "Thorn In My Side" "Love Is A Stranger", "Here Comes The Rain Again", and "Who's That Girl".
These Eurythmics Ultimate Collection original promo posters are a stunning visual representation of the iconic band's legendary career. The overall aesthetic of the posters is minimalist and stylish, perfectly capturing the band's signature brand of synth-pop sophistication.
Ultimate Collection is the second compilation album by 80's synth-pop duo Eurythmics, released in November 2005, Ulitmate Collection peaked at No 5 in the UK Album Chart. Eurythmics have sold an estimated 75 Million Albums worldwide having one UK No 1 with There Must Be An Angel in 1985. The album contained 2 previously unreleased songs, I've Got a Life and Was It Just Another Love Affair.
These posters are retro wall art with a difference and a must for fans of Eurythimics and 80's music.
Size
30" x 20"
Condition
Good 'Original' Poster
Rare
https://youtu.be/qeMFqkcPYcg