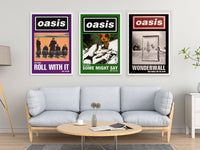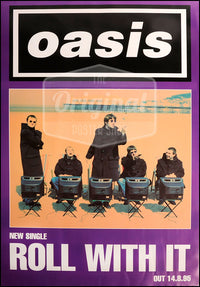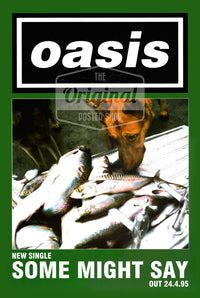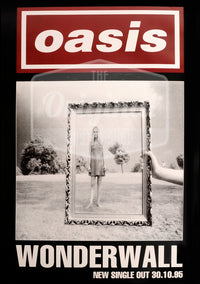 Original Poster Shop
Oasis posters - What's the Story, Morning Glory Singles Set - Originals
Oasis poster set for (What's the story) Morning Glory? singles featuring Noel & Liam Gallagher. Rare original posters.
This set looks brilliant as a framed set. (See Framing Options)
(What's the story) Morning Glory? was the second album released by Oasis in October 1995. Produced by Noel Gallagher and Owen Morris, this was their first album with drummer Allen White and established them as a rock group instead of a crossover indie group. As the band's most commercially successful release, it sold 347,000 in it first week and it spent ten weeks on the UK Album Chart. 
Posters feature three iconic singles from the album "Some Might Say", "Wonderwall" which topped the Australian and New Zealand singles charts and "Roll with it".

(What's the story) Morning Glory? is now generally considered a seminal record of both the Britpop era, and the 1990's in general. Over several months in 1995 and 1996, the band performed an extensive world tour, the most notable of the concerts were two Knebworth House performances in August to a crowd of 250,000 people. 
At the 1996 Brit Awards, the album won Best British Album and at the 2010 Brit Awards, (What's the Story) Morning Glory? was named the greatest British album since 1980 and has over 16 million copies worldwide.
This is a three poster original set which are in very limited supply as they are the original promo posters which were part of the original print run, carefully stored for over two decades and only now available for general sale exclusively through The Original Poster Shop.
Size 
Each poster is 30" x 20" inches 
Condition
Good 'Original' Condition